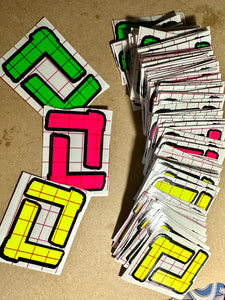 mightywithalltrades
Spike Tape Vinyl Decals
Regular price
$3.00
$0.00
Unit price
per
Spike Tape Decals
We all love spike tape!
Being a technician means you get to use spike tape ALL THE TIME. These little spike tape corners are sure to keep your stuff right where you want it. Spike everything.
♥ Stickers are made from layered black and flourescent vinyl.
♥ Glossy finish, glows under UV light.
♥ Available in yellow, green and pink tape.
♥ Each spike is approximately 2-1/8" x 2-1/8"
♥ Permanent Adhesive
♥ Hand wash only
Even though they are weatherproof and waterproof, stickers NOT RECOMMENDED FOR DISHWASHERS. Please tap dry with a napkin or towel after washing to prolong sticker life.
---